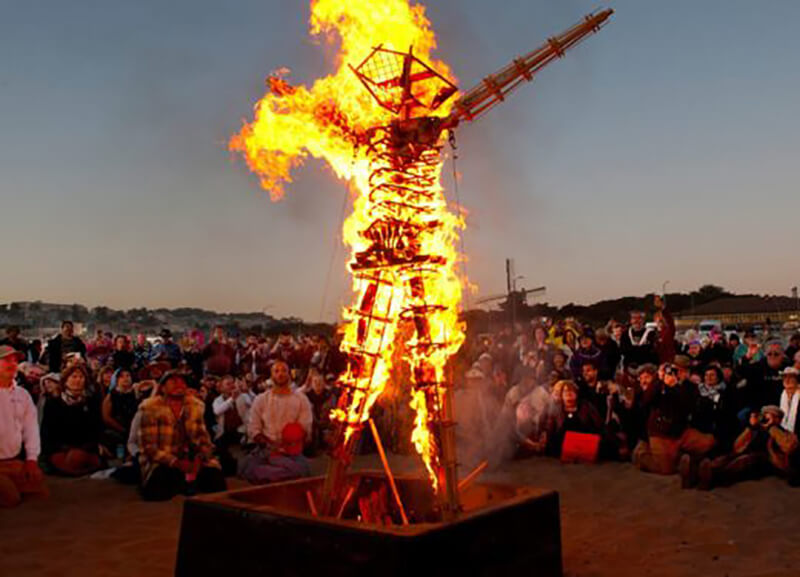 On June 21, community members accepted a simple invitation to mark a Global Day of Celebration and Gratitude for Larry Harvey and they made it their own. #thankslarry
Across the world, people gathered to honor the values and vision that Larry inspired, to celebrate the impact of this vision on their lives, and to signal their ongoing desire for a future filled with creativity, generosity, and community.
From beaches, hilltops, and mountainsides, to city venues and urban backyards, these gatherings took many forms.
In the Bay Area, the community organised a clean-up of Ocean Beach followed by stories, tributes, and the burning of an effigy, and PianFrancisco took a piano up Bernal Hill to mark the moment with music. Further afield, Kostume Kult hosted a blacklight party complete with Stetson-like hat decorations in New York; Iron Monkey Arts crew hosted an all-ages barbecue and storytelling event in Seattle; Tidewater Burners in Virginia organized a sunset community paddle at Virginia Beach; the community in Barcelona, Spain, gathered on a beach to burn paper stories; and mini wooden Men were torched during AfrikaBurn's Town Hall and at intimate backyard burns in New Zealand and Australia.
Closer to home, the Reno community gathered and lit candles at "BELIEVE," Laura Kimpton and Jeff Schomberg's previously-on-playa sculpture, while Burning Man co-founders Will Roger Peterson and Crimson Rose welcomed people to enjoy a reflective through their magical labyrinth in Gerlach. Meanwhile, we set up larry.burningman.org, where the comment fields quickly filled with heart-filled tributes and goodbyes, and on the Burning Man Journal, Stewart Harvey shared a photo essay about his brother.
On July 14, Burning Man alumni Will Chase and Rosalie Barnes, in partnership with Burning Man Project, produced a Larry Harvey storytelling event at The Castro Theatre, which quickly morphed into a full-blown multimedia extravaganza with live music, video, dance, performance, and processions, ending with Extra Action Marching Band spilling out onto the sidewalk and into the streets.
On playa — arguably the biggest Larry celebration of all — the community continued to mark this passage in its own wonderful ways. Art pieces such as Kate Raudenbush's "Passage Home," Mischell Riley's "bust of Larry," a little red flying saucer named "Paying Homage to Larry Bon Voyage" Preservation Hall Jazz Band kicked it up New Orleans style with a procession, and System Reboot organized a few minutes of silence amongst many Black Rock City camps.
Well-known Temple builder David Best and a crew of Larry's friends and family built a memorial piece that was burned on Wednesday night. The Temple, Galaxia, also dedicated one of its 20 petals to Larry and included a fitting memorial from Jerry James. For those wanting an insight into Larry's own flights of fancy, "Franchise Freedom" brought to life Larry's love of birds and a vision he had been working on all through March 2018. A 600-plus drone swarm moved audiences with three late-night performances blending technology, live music, and biomimicry of birds in murmuration.
A self-taught man, Larry loved Burning Man art, and he loved to philosophize about how and why the Burning Man experience inspires transformational change. Larry's unique vision and perspective drove the creation of the Burning Man Philosophical Center and its mission of stewarding and exploring the ethos at the heart of our community and collective memory. The center is a living archive of Larry's contributions, and we will continue to build on his vision through scholarship and storytelling.
To continue honoring and celebrating Larry's legacy beyond the playa and into the future, we established the Larry Harvey Art and Philosophy Fund. The Fund supports art projects, philosophical endeavors, and other work that reflects Larry's love of new ideas, both playful and profound.
Larry's was a mind rich in imagination and worthy of exploration. For Larry Harvey essays, interviews, video and more please see this page of our website: https://burningman.org/culture/philosophical-center/founders-voices/larry-harvey/