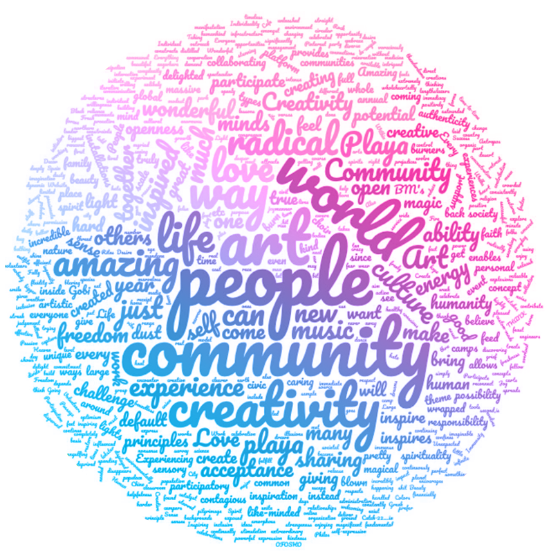 The pages of this report are full of inspiring stories and demonstrations of Burning Man's impact in the world. We place great importance on the voices and words from our community, so in 2018 we invited donors to answer the question: What inspires you about Burning Man? In response, donors sent many heartfelt notes about their personal experiences and their observations about the global positive effects of Burning Man culture and principles.
As a nonprofit, it is our mission to facilitate and extend the culture of Burning Man to the wider world. We are seeing how this culture creates kinder, more connected citizens. People donate to Burning Man Project to support our mission, to give back to the culture that has given them so much, and to provide the opportunity for others to experience it.
Burning Man Project receives donations from individuals, foundations, matching gift programs, organizations, theme camps, and more. Their generosity supports all of Burning Man's nonprofit programs, from Black Rock City, to the Regional Network, Burners Without Borders, Art and Civic Engagement, Education, and more.
"I am continually amazed and delighted by what our community is creating in the world, and in Black Rock City. I don't just mean the artistic creations and celebrations, but that we are all using the power of this community to unite instead of divide, and to heal instead of harm. I think this is the much-needed medicine of our time."
– recent donor
Burning Man wouldn't happen without the thousands of people who participate, volunteer, build art, inspire others, and share their expertise. We are deeply appreciative of every volunteer, participant, organizer, artist, and donor in 2018. As we continue to fulfill our mission as a nonprofit, we're thankful to the following supporters who donated $100 or more in 2018 in support of our mission.
Aaron Land
Abbey Banks
Abdul Jibran
Adam Belsky
Adam Pozek a/k/a The Guy – Camp Honest MiSteak
Adam Warren
Adib Samara aka Dibo
Affinity Mingle
Airpusher Collective
Al Topel
Alexander Green
Alexandre Eckmann
Alfred Bea
Alicia Hugh-Fisher
Allison Harrell
Amit Mizrahi
Amy & Michael Grable
Amy Meyers
Anat Agmon
Andrea Chung
Andrew Wheeler
Andrii Bozhok
Anna Crosbie
Annabelle Frankl
Anonymous Fund of Community Foundation Sonoma County
Arizona Burners AZ Artistic Conflagrators LLC
Ashlie Beringer
Austin Santomauro
Barbara Alison Walecka
Barbara Beerstein & George Badger
Barbro Moran
Barry Cogbill
Bart Rademaker
Bart Seidler
Beatrix Wilkerson
Beatriz del Rio Perez
Becky Stillwell
Beller Moses Family Foundation
Ben Martinek
Betsy Twitchell
Big Red Machine
Bill Breithaupt
Bill Murray
Bill Spencer
Black Rock East: Boston Decompression
Bobby Sarnoff
Brad Peik
Breanna Alexander de Geere
Brian Kirschenmann
Brian Wirtz
Brittany McNabb
Brodey Clifford
Bruce Steiner
Bubbles and Bass
Bucky
Bunnywood Tank Corps
Butthatsjustme
Byron Sheardown
Cait Clarke
Carlton Midyette
Carol Baardsen
Center Camp Cafe Volunteers
Charlie Dolman
Charles Peters
Charles Riser
Charlotte Burns
Chelsey McKrill
Cheryl Edison
Cheyenne Shasky
Chip Conley
Chris David Kerner
Chris Kemp
Chris Kollaja
Chris McCullough
Chris Paine
Chris Trahman
Christina Karagias
Christina Pettigrew
Christine Moran
Christine Waage (Thorina)
Christopher Breedlove
Christopher Ihlefeld
Christopher Larson
Ciaran O'Sullivan
Cindy Carano
Cipher
City of Reno
Claire McAuliffe & Sallie Griffith
Claire Werner
Clara Markowicz
Clayton Bain
Clueless
Cody Swift
Colin O'Donnell
Collin Copenhaver
Craig Harmer
Crispell Wagner & Katie Hazard
Cullen Rotroff
Dana ("DaDa!") Ullman & Clare Ullman
Daniel Porter
Daniel Watkins
Danielle Wyss
Darian Shapiro
David Adamson
David Alley
David Best
David Denberg
David Eshe
David Gottlieb
David Goulden
David Katz
David Levin
David Reuter
David Walker
David Walliams
David Womack
Denis Perelyubskiy
Dolores Kent
Donald R. Proctor
Doretta Bonner, aka Dusty Girl
Douglas Habersaat
Douglas Jones
Dr. Kristen Berg & Wilfredo Sánchez Vega
Dr. Margot & Charlie Kirschner
Drexl Spivey
Drs. Deb Windham & Brian Herman
Eeva Pinky Doherty
Eleanor & Bob Preger
Element 11, Utah's Regional Burn
Elizabeth Betsy O'Neill
Elizabeth Lowe
Elizabeth Zbinden
Emily Dvorin
Emma Bowes
Emmanuel Di Donna
Eoghan McCabe
Eric Brisson
Erica Mirich
Etkin Family Advised Fund at Aspen Community Foundation
Eugene Katz
Faceblind
Fannie Allen & George Cogan
Fernando del Sol
Fleur Bresler
Florent Masurel
Frances Hellman & Warren Breslau
Frank Sippel

Freddy Hahne

Friends of Black Rock

Gabrielle Enfield

Gary Staebell
Gary Zaremba
Géniusz
Gib Bulloch
Giovanni Arcadu
Grant D. Van Every
Greg Schafer
Gregory Malin
Grover Norquist
Gustavo Cardenas
Half Angel
Hanouf Nass
Hans Hannus
Hans Peter Maassen
Harley K. Dubois
Harold Baize (Silver Man)
Harris Faberman
Heather Gastelum
Heather K. White
Heather Thompson
Henk Rogers
Hesham Hauter
Hillary Perelyubskiy
Hope (Spiral) Davita
Hugh Ryan
Hunter Dehn
Ian Sobieski
Ingrid Daubechies
J.O. Tobin II
Jack Rubinson
Jailbait & Tony Bagodonuts
James Tananbaum
Jan Ellison Baszucki & David Baszucki
Jana Richey
Jason Swartz
Jeff Bailey
Jeff King
Jeffrey Levine
Jennie Frisby
Jennifer & Frances Rainin
Jennifer Kile
Jennifer Oldland
Jennifer Raiser
Jenny Boyle
Jenny Stefanotti
Jeremy Crandell
Jerry Bernie
Jerry Crabtree
Jessica Donald
JETT
Jim Toole
Joe Gebbia
Johannes Swart
John Catoline
John Marx
John Wendt
John Whitaker
Jon La Grace
Jonathan Segal
Jonathan Y. Teo
Joon Yun
Joseph Hanono
Joseph M. Cychosz
Joseph Vardi
JP Harbour
Justin McBaine
Justin Shaffer
Kamilla Amirova
Kareena Love
Karen Brennan
Karen L. B. Benedict
Kars Veling
Kate Burns
Katherine Bleich
Kay Morrison
Keith Morris
Kelsey Carbone
Ken Williams
Kenneth Minn
Kevin Menninger
Khalil Amry
Kim Cook
Kostume Kult
Kristi "Fancipants" Wood
Kristin Hudson
Kyle Casey
Laurent Cooreman
Lawrence Blume
Lee Austin
Leiasa Beckham
Leo Villareal
Leon Benrimon
Lightning Clearwater III
Linda Drucker
Linda Spencer
Lindsay Schaefer
Lisa Thai
Lora Johnson
Lorne Shiff
Louis Belhoste
Lyla Rose Holdstein
Madelyn Yeung
Marc Mehli (Ricola)
Marcus Segal
Mardi Jackson
Marian Goodell
Marion Müller
Mark Costella
Mark Evans
Mark Higbie
Mark Radcliffe
Mark Sinclair
Mark Taylor
Martin Banks
Mathias Korder
Matsby
Matt Goldberg
Matt Scott
Matt Tamaki
Matthew Graham
Maximilian Claussen
Mayssam Sayyadian
Megan Miller
Melanie Craft & Ted Barnett
Melissa "Syn" Barron
Mercedes Martinez
Michael Cruz
Michael Gfeller
Michael Halverson
Michael Kinsley
Michael Leedom
Michael Murray
Michael T. Crane
Michel E. W. Gaille
Michelle Behrend
Mike & Sally Fitzhugh
Mike Cardellini
Mike Farrah
Mitch Davis
Mitzi Wainhouse
MK Duke
Mosey
Nabiel Musleh
Nacho Mazzini
Near Rhyme
Neill Zimmerman
Nicholas Blackwater
Nicholas Boulis
Nicholas Cutler
Nicholas Sanchez
Nick & Bianca Heyming
Nick Stone
Nicolas-James Black
Nina Lalic
Noah Felk
Noodle
NYC Decompression Event
Orli Rinat
Pasha Knight
Pat Giamanco (gummy)
Patricia Rusich
Patricia Sylvana
Patrycja Mulawa
Paul Bacchi
Paul Labrusse
Pearl Renaker
Penelope Reine de la Savane
Peter Dwyer
Peter Luce
Peter Ruprecht
Petr Valov
Philippe Mullens
Ping Fu
Pizza Burrito
Popeye
Precious (Ron Vidal)
Primavera Salva & Katia Bouazza
Priya Aswani
RainBow Boy!
Randy George Herrera
Randy Macan
Renee LeBaron
Ricardo
Ricardo Goldfarb
Richard Horn
Ripple, Kamp Karaoke
Rob van Nieuwkerk
Robert & Linda Spencer
Robert Becker
Robert Bienstock Charitable Foundation
Robert Oestreich
Roger Hamilton
Roger Mathews
Roger Wu
Ron Carn Risadoc
Ronit Stern
Rose & David Miles
Ross Tweedy
Ruedi "Cheesus" Noser
Ryan Unger
Sabrina Sari
Sagi Paul & Iris Kaganovich
Salto Bueno
Sam Goldman
Samir Hammami
San Francisco Grants for the Arts
Santa Cruz Burners LLC
Sarah Barbour
Sarah Fisk, PhD
Sarah Marshall
Saunter Lezak
Scott LeFevre
Scott Stapert
Seth & Sharon Leslie
Sharma Hendel
Shelby Stark
Shellstar
Sidney & Phyllis Bresler
Simone Ravaioli aka Psykoreactor
Skip & Ellie Smith
Sloane & Nick Morgan
Slobodan Randjelovic
Spanky Schubert
Stephanie Anderson Pugash
Stephanie Blach
Stephen Grana
Stephen Heinen
Steve Engel aka Ra
Steve Sanford
Steven Queen
Sue Holland
Sue Silver
Susan Toland LeFevre
Suzi & Dennis Bartels
Svetlana Isaeva
Syd Gris
Synchro
T-bone
Tacy Hahn
Taylor Tobin
Ted Wang
Teeny Tiny Tonya
TF Matt Cheney
The AFC Camp
The Darby Foundation
The JMCMRJ Sorrell Foundation
The Marilyn & Jeffrey Katzenberg Foundation
The Martini Man
The Stocker Foundation
The Thelma B. and Thomas P. Hart Foundation
The Walrus
The Wy'east Foundation
Thelma Jarman
Theresa Duncan
Tiana Dustow
Tillman Pearce & Gayle Maccia
Tim Cull
Tim Degraye
Tim Matusch
Tito Love
Toby Short
Tom McClimon
Tom O'Brien
Torin Monet
Tornillo
Touchbass
Transformus
Travis VanBrasch
Tsuyoshi Kubota
Turnkey
Tyler Norris
Vanessa Franking
Vernii Sluga
Vickie Nauman
Vincent Tamariz
Vitalii Zemskov
Volkert Doeksen
Warren Trezevant
Will Roger Peterson & Crimson Rose Peterson
Will-Bertolt Hirsch
William B. Hulsey
William Rogers
Wm Sutterfield
Woody Monkwood
Ysiad Ferreiras
Z & Olympia
Zach Stern
Zachary Gervais
Zachary Smith
Anonymous (37)