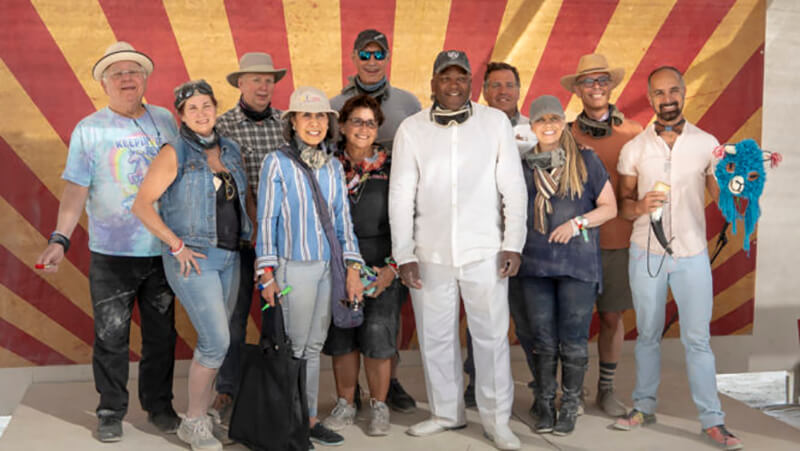 In January, Burning Man Project Director of Communications Megan Miller addressed 500 mayors, art directors, and other arts advocates at the biannual gathering of the U.S. Conference of Mayors. The conference is comprised of local elected leadership across the country, and passes resolutions on national urban policy, which are shared with the President and Congress. Megan's talk and a breakout session by Director of Education Stuart Mangrum and Arts Advocate Maria Partridge highlighted the deep sense of investment that people have in their city when they build it themselves — like Burners do in Black Rock City. They take care of their city and each other.
They also pointed to a city design that reflects our values of self-expression, inclusion, and collaboration, and residents who are engaging in all kinds of ways to make their hometowns more vibrant, inclusive and resilient communities: from large-scale art projects and solar installations to beach clean-ups and disaster relief efforts. The key take-home message? Our job as leaders is to extend an invitation and create conditions that encourage experimentation, citizen-driven solutions, and high levels of participation. At their June meeting in Boston, mayors on the Tourism, Arts, Parks, Entertainment and Sports Committee of the U.S. Conference of Mayors passed a resolution honoring Burning Man and encouraging "mayors to support artists, makers, and their local Burning Man communities in their shared effort to nurture creativity, innovation, inclusivity, and civic pride."
In August, a contingent of 14 mayors accepted our invitation to experience Black Rock City for a day firsthand. Mayors from Minnesota, South Carolina, California, New Jersey, Oklahoma, New Hampshire and Nevada were eager to see people bring the same creative energy back to their cities and engage with elected officials and community leaders, perhaps even becoming those leaders themselves! Our partnership with the City of San José continued to invite the local artist community to imagine ways to invigorate its city's public spaces with art. This included the installation of "Ursa Mater" by Mr. & Mrs. Ferguson; "Tara Mechani" by Dana Albany; and two pieces by Laura Kimpton with Jeff Schomberg, "XO" and "HaHa." We also continued to foster co-learning opportunities about civic art through our relationship with the French city of Nantes.
In 2016, the inaugural Maker Faire Nantes brought together the French Burner community, Burning Man Project, Burning Man artists, local makers, and Les Machines de l'île, one of the world's most ambitious creative teams that has helped revitalize Nantes. This year, we deepened the relationship and learnings of our kindred art cities by holding the Fifth Annual Burning Man European Leadership Summit (ELS) at the campus of Les Machines de l'île. The April summit included 200 Burning Man Regional Contacts, Burning Man staff, regional event organizers, key network leaders, and champions of arts and culture from 28 countries across Europe, neighboring regions, the United States, and Canada. They gathered to share skills, knowledge, and ideas about this year's theme, "Creative Communities and Creative Cities," through 27 breakout sessions, talks, workshops, group discussions, and various artistic experiences.
The summit gave us the opportunity for a behind-the-scenes look at the creative and strategic processes underpinning Les Machines' transformation of Nantes into a permanent art city. Burning Man Project CEO Marian Goodell has also been made "godmother" of Les Machines' latest creation, the Arbre aux Hérons, which will be completed in 2022. This project, including its interesting model of one-third crowd-funding, one-third local government funding and one-third federal funding, is a chance to learn about making really big, seemingly impossible things happen right in the center of civic life.